Providing Top-Notch Excavating Contracting Services
Hiring the Right Excavating Contractor can make all the difference in a project.
Let's Work together to get the job done.
Call Today with questions for any Commercial or residential job.
Free Estimates
Quotes over the phone
All operators are appropriately Licensed for Equipment & Trucks
Over the years, many of our clients have been kind enough to leave us reviews.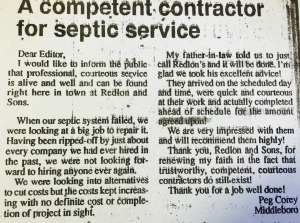 Dear Editor,
I would like to inform the public that professional, courteous service is alive and well and can be found right here in town at Redlon and Sons.
When our septic system failed, we were looking at big job to repair it. Having been ripped-off by just about every company we had ever hired in the past, we were not looking forward to hiring anyone ever again.
We were looking into alternatives to cut costs but the costs kept increasing with no definite cost or completion of the project in sight.
My father-in-law told us to just call Redlon's and it will be done. I'm glad we took his excellent advice!
They arrived on the scheduled day and time, were quick and courteous at their work and actually completed ahead of schedule for the amount agreed upon!
We are very impressed with them and will recommend them highly.
Thank you, Redlon and Sons, for renewing my faith in the fact that trustworthy, competent, courteous contractors do still exist!
Thank you for a job well done!
Peg Corey, Middleboro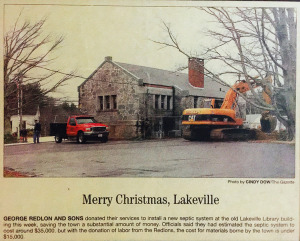 George Redlon and Sons Donated their services to install a new septic system at the old Lakeville Library building this week, saving the town a substantial amount of money. Officials said they had estimated the septic system to cost around $35,000, but with the donation of labor from the Redlines, the cost for materials borne by the town is under $15,000.
Merry Christmas, Lakeville